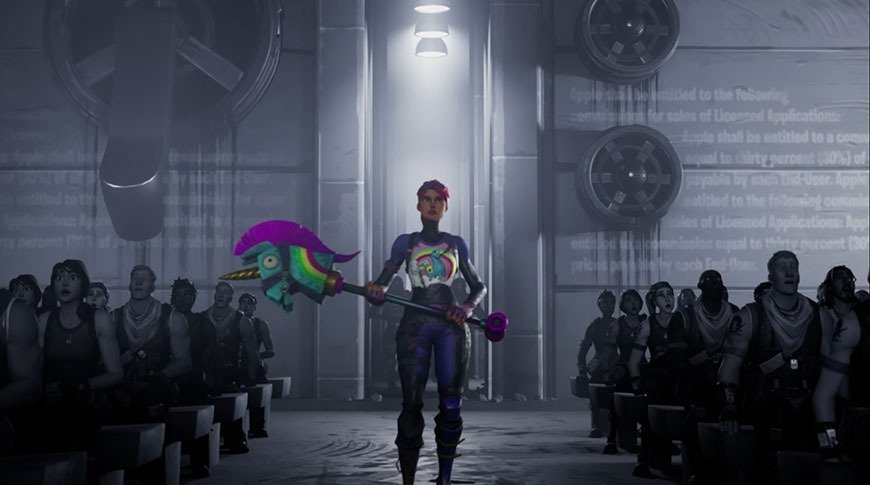 Apple denied request to delay App Store changes resulting from Epic lawsuit


AppleInsider is supported by its audience and may earn commission as an Amazon Associate and affiliate partner on qualifying purchases. These affiliate partnerships do not influence our editorial content.

A federal court judge on Tuesday denied Apple's request to stay enforcement of mandated App Store changes resulting from the company's high-profile legal spat with Epic Games.
Following a brief in-court hearing on the matter, U.S. District Judge Yvonne Gonzalez Rogers tossed Apple's motion to stay court orders that would force the company to nix App Store anti-steering rules prohibiting developers from integrating purchase buttons and links within their apps.
The ruling dates back to the conclusion of the Epic v. Apple case. In an attempt to sidestep App Store commissions and launch a pre-planned legal barrage designed to upend App Store policy, Epic last year surreptitiously included a direct payment alternative in its popular game "Fortnite." Apple pulled the game for flouting App Store guidelines, triggering a legal blitz centered on alleged antitrust issues.
Apple prevailed on nine out of 10 counts in the ensuing trial, but Judge Rogers took exception to anti-steering policies that restrict developers from using buttons or links to direct users to alternative payment methods. In handing down her decision in September, the judge called on Apple to eliminate those guidelines and allow app makers to "[communicate] with customers through points of contact obtained voluntarily from customers through account registration within the app."
Apple appealed the ruling and asked the court to stay enforcement of the injunction pending resolution of its action. That motion was denied today.
"In short, Apple's motion is based on a selective reading of this Court's findings and ignores all of the findings which supported the injunction, namely incipient antitrust conduct including supercompetitive commission rates resulting in extraordinarily high operating margins and which have not been correlated to the value of its intellectual property," Judge Rogers writes.
Apple's legal team argued in court today that integrating new App Store affordances is a monumental task that would take "months" to accomplish.
"This will be the first time Apple has ever allowed live links in an app for digital content. It's going to take months to figure out the engineering, economic, business, and other issues," said Apple attorney Mark Perry, according to an in-court report from The Verge. "It is exceedingly complicated. There have to be guardrails and guidelines to protect children, to protect developers, to protect consumers, to protect Apple. And they have to be written into guidelines that can be explained and enforced and applied."
The company held up settlement terms in an unrelated class-action lawsuit as evidence of compliance. In August, Apple agreed to make changes to App Store policy that would allow developers to contact customers via email about alternative payment methods. The settlement, which includes provisions for a $100 million fund for small developers, is reportedly headed for approval.
Judge Rogers remained skeptical of Apple's ask in the Epic case because the company gave no definitive timeline for completion, The Verge reports.
"You haven't asked for additional time. You've asked for an injunction which would effectively take years," Judge Rogers said. "You asked for an across-the-board stay which could take three, four, five years."
She reiterates the point in her written judgment.
"That the injunction may require additional engineering or guidelines is not evidence of irreparable injury. Rather, at best, it only suggests that more time is needed to comply," the decision reads. "Apple, though, did not request additional time to comply. It wants an open-ended stay with no requirement that it make any effort to comply. Time is not irreparable injury."
Apple has until Dec. 9 to make the ordered App Store changes, but the company plans to appeal today's ruling.
"Apple believes no additional business changes should be required to take effect until all appeals in this case are resolved. We intend to ask the Ninth Circuit for a stay based on these circumstances," a company spokesperson told the publication.